Online Divorce
in Minnesota
Simple process to get divorce papers online
Affordable pricing plans with no hidden fees
Unlimited changes to forms and free revisions
Divorce papers ready to download in two business days
Step-by-step filing instructions
Award-winning tech support for all customers
Divorce in Minnesota is quick and easy
Divorce Online in Minnesota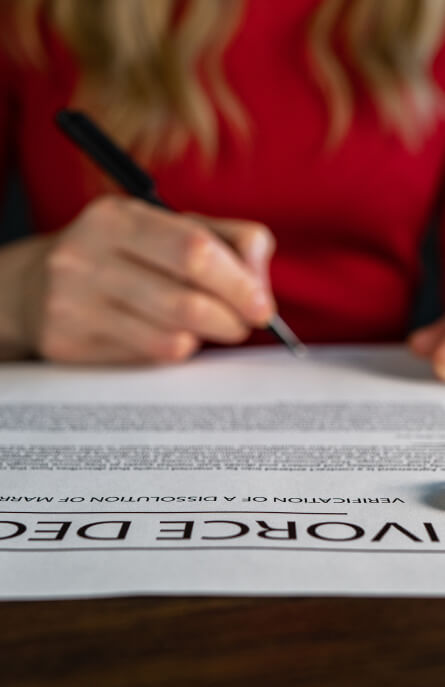 Online Minnesota Divorce provides reliable tools to prepare state-specific divorce documents over the internet quickly and affordably.
The primary benefits of online divorce are as follows:
Unlike the traditional divorce process with a lawyer, online divorce offers significant savings. People using this option are charged a fixed payment with no hidden fees for unnecessary services.
There is no need to take any time off from work or other commitments to prepare for the filing process. It is enough to have a PC or smartphone to generate divorce forms applicable for your case.
Online divorce companies offer up-to-date documents, which is extremely important considering that requirements for legal forms regularly change in each state.
Your case preparation does not depend on the type of law a certain attorney practices, where they work, and their experience level.
Online divorce offers full control over your time as you decide when and where to complete divorce papers.
You can prepare divorce paperwork without a solid legal background.
How to qualify for an online divorce?
To qualify for an online divorce, you should apply for an uncontested divorce. In other words, you and your partner must reach an agreement on all divorce-related issues, including child custody, spousal support, division of marital assets, etc.
If you disagree on at least one divorce term, you can hire a divorce mediator (a neutral third party specially trained to help couples with dispute resolution). Once everything is settled, divorcing people can use online divorce services.
Compare Your Options for Filing for Divorce in Minnesota
Divorce With a Lawyer
A traditional court-based process where spouses hire separate attorneys to represent their interests in court.
Expensiveness. Local attorneys charge between $260 and $330 per hour
Dependent on a lawyer's level of experience and schedule
It can be considered a negative move by your spouse
Litigation takes more time than any other divorce option
Minnesota Divorce Online
A quick, affordable, and easy alternative to the traditional court process for uncontested divorces.
You can complete everything online at your own pace
Preparation of divorce forms takes around 2 business days
All documents are efficiently posted directly to you
You can apply for divorce at a much lower cost
Divorce papers fully correspond to your state's current standards
DIY divorce
A "pure" do-it-yourself (DIY) divorce is the type of marriage dissolution that is processed without any help from third parties.
It requires a solid legal background.
It can lead to many errors, typos, or inaccuracies.
It takes a vast amount of time.
It can result in a case dismissal due to the couple's failure to fill out documents properly and meet certain requirements.
Here's how our process works.
Looks complicated?
Get your hassle-free divorce
Provide your case details
2
File for Divorce Online in Minnesota Without a Lawyer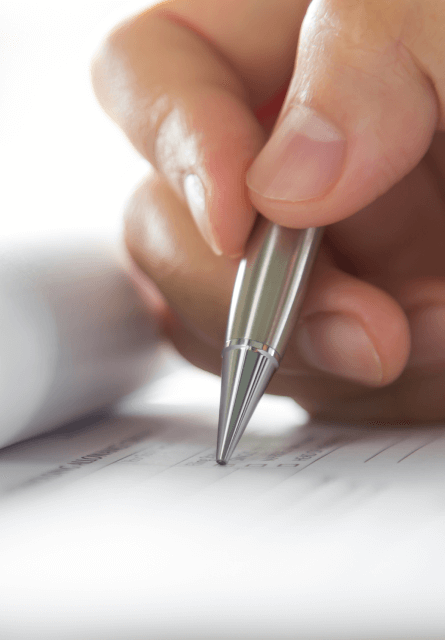 It may be possible to complete your divorce without an attorney. However, both parties should make sure that they fully understand their rights and obligations before agreeing to the terms of marriage termination.
If there are no ongoing disputes regarding divorce-related issues, soon-to-be-ex spouses have the opportunity to use the benefits of online divorce. Otherwise, they will need to hire a divorce mediator or lawyer to resolve existing disagreements.
Filing Process
There are a few steps that you should take in order to file for a divorce without a lawyer in Minnesota:
Bring divorce documents to the clerk of the district court in the county where either you or your spouse resides.
Pay a mandatory filing fee, which is around $365 in most counties. However, keep in mind that some county district courts add on their own small fees.
Serve your spouse with divorce papers. You can easily do it by sending completed forms to your spouse and asking them to sign a Waiver of Service of Summons within 30 days. If you've applied for a joint divorce, there's nothing else you should do to finalize your divorce.
Wait for the judge to sign your Judgment of Divorce.
Do-It-Yourself Divorce in Minnesota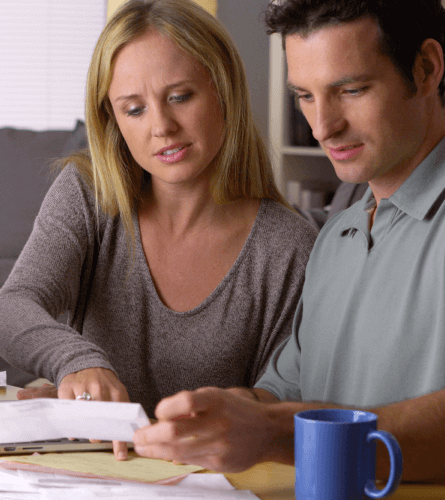 If you've decided to use a DIY option, you should consider several essential aspects.
1. Decide on the type of divorce you want to apply for. The thing is, the uncontested divorce process significantly differs from a contested one. Most importantly, if you can't agree on the main divorce terms with your spouse, you won't be able to use a DIY method.
2. If everything is settled, you have the opportunity to file for a simpler divorce process in Minnesota known as "Summary Dissolution." It can help streamline the whole marriage termination process and save money on filing fees. To qualify for this option, you must fulfill all requirements outlined below:
The couple does not have minor children together, and neither spouse is pregnant
The marriage has lasted less than 8 years
Neither party owns any real estate
You have less than $8,000 in unpaid debts (incurred by either or both spouses during the marriage), without taking into consideration car loans
The total fair market value of common marital assets is less than or equal to $25,000
Neither party has separate property worth more than $25,000, and
There is no history of domestic abuse.
3. Check whether you meet local residency requirements. If not, your divorce case will most likely be dismissed.
4. Prepare divorce forms applicable for your case. You can do it either on your own or with the help of online divorce companies, such as Online Minnesota Divorce.
5. File completed documents in the country where either spouse resides.
6. Inform the other party that legal action is taken against them (except for cases of "Summary Dissolution") in one of the following ways:
In person — by asking anyone 18 years of age or older and is not a party to the lawsuit to serve the divorce papers.
By mail — the other party will have to sign the included Acknowledgement of Service form and return it to you.
By publication — in case the other party cannot be located.
7. Wait for the judge to review your paperwork and issue a Judgment of Divorce.
All Required Minnesota State Forms.
Minnesota-Specific Court Filing Instructions.
Unlimited Revisions for as long as your account is active.
Getting a Divorce With Children in Minnesota
In case of uncontested divorce, your settlement agreement will include information regarding custody, parenting time, child support, spousal maintenance, and so on. If the judge believes that the proposed document is fair and meets the needs of all parties involved, its terms will be approved. In other cases, both physical and legal custody will be determined according to the combination of different factors, including:
the child's preference (if the child is of sufficient age to express a reasonable preference)
the parents' wishes
the child's adjustment to home, school, and community
the child's personal relationships with each parent and other family members
both the mental and physical health of each party involved
each parent's financial status
history of domestic violence or abuse
When it comes to child support, it is essential to note that both parents remain financially responsible for the child. At the same time, the noncustodial parent usually must pay the other parent because the law assumes that the custodian already spends money directly on the child.
According to the Minnesota child support guidelines, this payment varies from case to case, depending on factors such as each parent's gross monthly income and any other child support orders for either parent. You can use a child support calculator to estimate monthly child support costs.
Residency Requirements in MN
To be eligible to file for divorce in Minnesota, the couple should meet residency requirements. They are as follows:
At least one of the parties must have been a legal resident of the state for a minimum of six months (180 days) before the divorce case is started, or
At least one of the spouses must be a member of the US military service and be stationed in the state for a minimum of six months (180 days) before filing for divorce.
In addition, all divorce documents should be filed with the district court in the county where at least one of the parties resides.
Failure to meet these requirements can lead to case dismissal. In other words, the couple will have to start the divorce process all over again once the necessary conditions are fulfilled.
How Long Does It Take to Get a Divorce in Minnesota
It is very difficult to predict the length of a particular divorce process, as each case is unique and requires a different amount of time to be finalized. However, some factors significantly affect this aspect. For example, a mandatory waiting period is one of the main things considered when determining the time needed for a divorce.
Unlike many other states, Minnesota does not have a state-mandated waiting period that should be followed by divorcing couples before their divorce can be legally finalized. As long as you meet local residency requirements (which is being a resident of Minnesota for at least 6 months immediately preceding the commencement of the divorce), the court will review your case and finalize marriage dissolution as soon as possible.
Typically, uncontested divorce cases last for around 2 months, whereas contested ones take around one year or more. It can be explained by the fact that resolution of divorce-related issues takes a lot of time.
Customer Testimonials
My spouse and I have not lived in the same house for many years. Attempts to really "talk" about our relationship fell flat, so it was finally time to give up. The Online MN Divorce Assistance Service is a dream come true! Prices are great, way below a lawyer. Reaching the end of the request case was very easy, very complete. We did not have minor children or property to argue over, so things were very easy. Staff very helpful and easy to connect with. Very Fast too.
I set it up for my ex and I to go through our parts and enter the correct information. After the questions were answered it was easy to submit and get the paperwork.
This is a simple, stress-free way to do divorce papers and you know everything is being done correctly.
was very easy with the information to comprehending the questions.
Good would tell anyone in this shape to trust your sight. Save money and get your life back.
They were quick efficient, honest about cost and extras, and made sure they talked to me first.
I like how easy it is to fill in the paperwork and to file. I just wish the process was a "little" quicker and easier.
This was quick and easy and went through quite fast
Questions are straight forward and easy to use.
Frequently Asked Questions
How to file for an uncontested divorce in Minnesota?
To file for an uncontested divorce in Minnesota, you should:
Prepare divorce documents that comply with local laws and requirements
File completed paperwork with a court and pay filing fees
Serve the other party with divorce forms
Wait for the judge to sign your Judgment of Divorce
At the same time, you can pursue uncontested divorce online in Minnesota by using Online Minnesota Divorce to prepare necessary divorce forms.
How much does a divorce cost in Minnesota?
The average contested divorce costs approximately $9,000-$10,800 in the state. On the other hand, Uncontested divorces cost no more than $2,000.
To save money, you can prepare divorce forms online with the help of Online Minnesota Divorce. This platform helps people select and fill out necessary divorce forms in 2 business days for a very affordable price of $139.
How to get a free divorce in Minnesota?
To get a free divorce in Minnesota, you should use a DIY option and ask the court for a fee waiver, also known as "IFP" or "In Forma Pauperis." Once you fill out, sign, and submit this form, it will be reviewed by the judge. The court will inform you if you qualify.
How to get divorce papers in Minnesota?
You can get the required forms online or go to your local courthouse. You also have the opportunity to use an online divorce service.
Where do I go to file for an uncontested divorce in Minnesota?
To file for an uncontested divorce, you should go to the clerk of the district court in the county where either spouse resides. Also, you can file a divorce online in Minnesota through the court's electronic filing system.
What are the grounds for divorce in Minnesota?
Minnesota is a no-fault state, which means that there's no need to blame the other party for the failure of a marriage. In turn, it is enough to prove there's an irretrievable breakdown of the marriage by showing the court either:
you and your partner have lived separate and apart for a minimum of 6 months (180 days), or
there is serious marital discord, which leads to no reasonable prospect of reconciliation.
How is property divided in a Minnesota Divorce?
The state of Minnesota follows the equitable distribution method in the context of dividing property. Thus, local courts take appropriate measures to achieve a fair allocation of property based on a list of factors set forth by state law.